Polygamist cult leader Warren Jeffs received
the maximum sentence
from a Texas jury on Tuesday. The 55-year-old was given a life sentence, plus 20 years.
Following his convictions of aggravated sexual assault and sexual assault of two young girls, ages 12 and 15, who he claimed were his "spiritual brides," Jeffs was accused of sexually abusing and manipulating them into a subservient lifestyle.
A jury agreed and
convicted Jeffs
on all counts.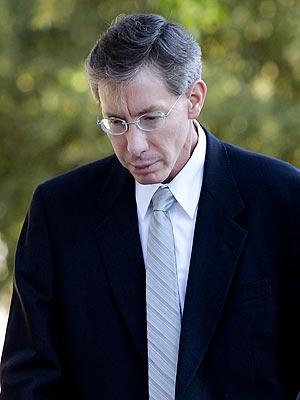 Jeffs may have as many as 78 wives, according to prosecutors.
The horrific evidence the prosecution presented during the sentencing phase of the trial included shocking audio tapes of Jeffs instructing young girls how to sexually please him and recordings of him having sex.
One juror cried as the sexually graphic tapes were played.
Jeffs, 55, was the leader of the Fundamentalist Church of Jesus Christ of Latter Day Saints, and prosecutors claimed that he raped multiple girls and that he even sodomized his nephew when the young boy was just five.
Good riddance.
Read more
celebrity gossip
at:
http://www.thehollywoodgossip.com/2011/08/warren-jeffs-sentencd-to-life-in-prison-and-then-some/#ixzz1UZNrBQtJ